Experience the Evolution of a Modern Classic with the Lamborghini Huracan EVO
With a beautifully sculpted body and a thundering V10 under the hood, the Lamborghini Huracan EVO is everything that Hudson County drivers have come to expect from the legendary Italian exotic. 
An evolution of the stunning Huracan supercar, the Huracan EVO takes the platform to the next level with enhancements that improve performance and overall driving experience.
Exterior Design
The classed wedge shape of the Lamborghini brand is retained in the Huracan EVO, giving the luxury exotic classic supercar looks and phenomenal aerodynamic performance. V-shaped LED headlights are doubled on each side to present a menacing forward profile even at night, and the aggressive front end architecture delivers both cooling and performance functions as well as a truly race-inspired aesthetic.
The narrow windows and angular features of the side profile could only belong to a Lamborghini, and the aggressive cut of the character line provides a glimpse into the ferocious performance inherent in this V10-powered monster.
A pair of fire-spitting exhausts protrude from the rear bumper of the Huracan EVO, and the rear diffuser once again points to the performance-oriented nature of this luxury coupe. Overall, the exterior design of this Lamborghini for sale in Bergen County is angular, muscular, and head-turning in every way.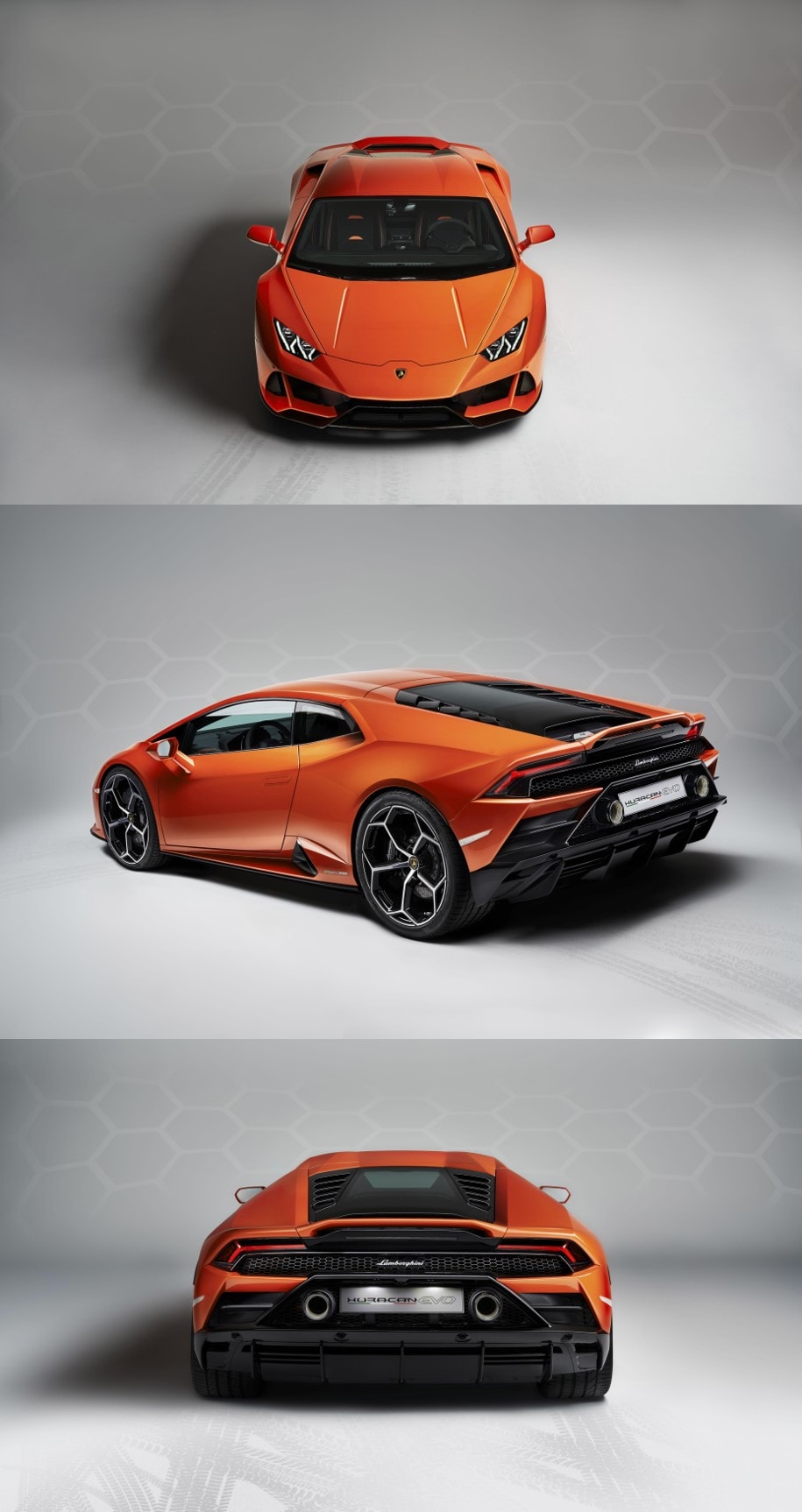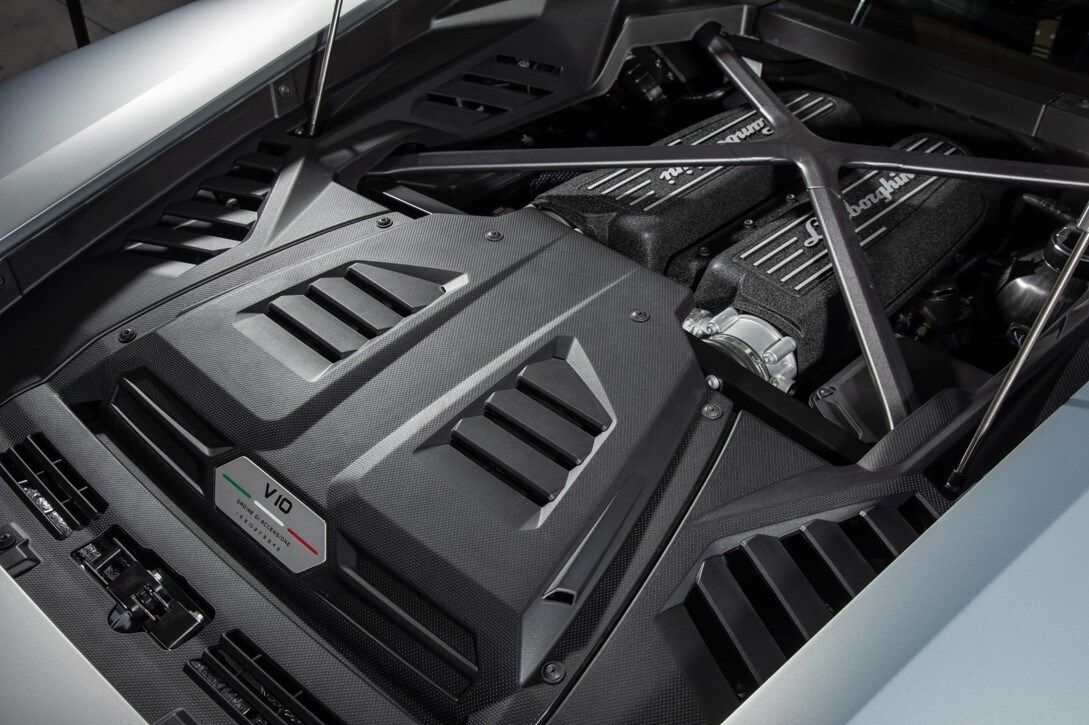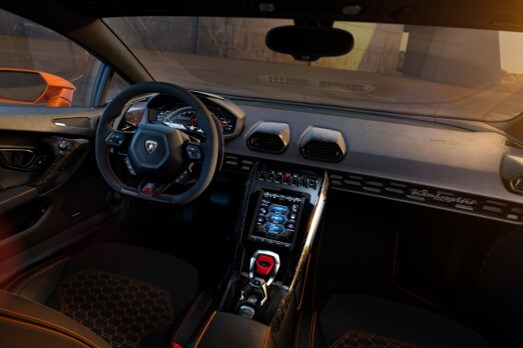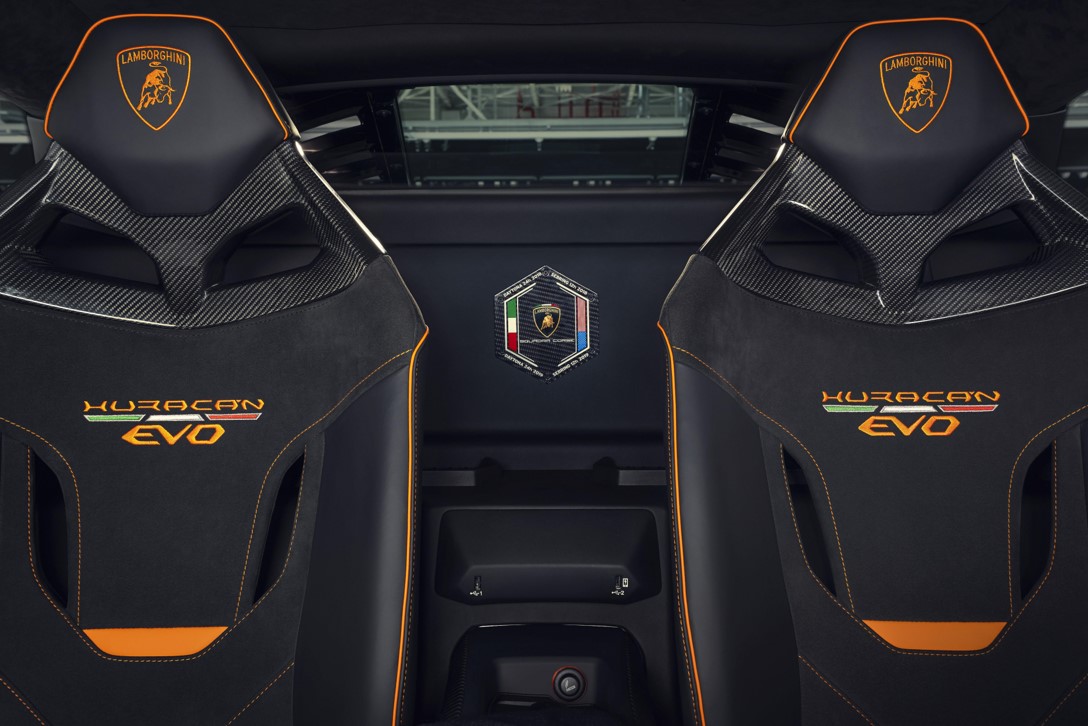 Performance
Now to the part you're really interested in. Performance.
The rear-mounted engine in the Huracan EVO is a direct-injected V10 with a compression ratio of 12.7:1. Delivering a staggering 630 horsepower and 442 pound-feet of torque, you'll have to start coming up with new excuses for being late with this kind of power under your right foot.
Getting all of that power to the road is an electronically-controlled all-wheel drive system and seven-speed dual-clutch automanual transmission. The all-wheel drive system aids in power delivery by using an auto-locking differential to control wheel spin. The automanual dual-clutch transmission uses pre-selected gear technology to make shifts in less time, resulting in shocking performance and acceleration and nearly no loss of drive when you shift using the steering-wheel mounted paddles. On the spec sheet that results in a 0-60 mph time of just 2.9 seconds and at full tilt you'll find yourself at 124 mph in just 9 seconds.
Of course, the Huracan EVO is more than just raw power, Lamborghini has employed every trick in the book to make it more than capable of handling the twisty stuff as well. Manhattan drivers will love ripping up the Taconic Parkway as the aerodynamic aids such as the front splitter, integrated wing, and rear diffuser manipulate air to keep you pinned to the road. All the while electronic stability control, magnetic-ride suspension and double-wishbone suspension geometry keep your tires in contact with the road even over bumps for greater control and more confidence behind the wheel.
When it's time to bring all of this ferocious performance to a swift stop, Monmouth County drivers will have a set of high-performance carbon-ceramic brakes to lean on, offering a stopping distance of just 31.9 meters from 62 mph. Ventilated and cross-drilled carbon rotors resist heat fade allowing you to push harder for longer on the track, and delivering predictable and sharp stopping power when you need it on the road.
The use of Lamborghini Integrated Vehicle Dynamics helps make accessing the otherworldly capabilities of the Huracan EVO more accessible more quickly. Select your drive mode and the system adjusts to deliver the driving experience you want, and can even anticipate your inputs to deliver a predicable driving experience and keep everything under control. In short, you'll be able to wring more performance out your Huracan EVO without things getting out of hand, and with experience you'll have the ability to truly push this supercar to it's limits.
Visit Lamborghini Paramus Today!
To get an up-close look at the Lamborghini Huracan EVO, visit our Lamborghini dealership in Paramus today! Take this evolved supercar for a test drive and feel the high-tech performance that only Lamborghini can deliver.

Make an Inquiry
* Indicates a required field
Hours
Monday

9AM-7PM

Tuesday

9AM-7PM

Wednesday

9AM-7PM

Thursday

9AM-7PM

Friday

9AM-6PM

Saturday

9AM-6PM

Sunday

Closed