Your Lamborghini is Thirsty for Power: Be Sure It Has Enough Juice
As powerful as your Lamborghini is, it has one potential vulnerability: Slow but persistent battery drainage, or "discharge." Why? Because an extraordinary luxury car like the Lamborghini is sometimes not used as much as regular cars, so it can be susceptible to the car battery running flat. The reason: Any car needs to be started on a regular basis to keep the battery charged or it gradually loses power. Whether it's from infrequent use or keeping a vehicle in car storage, the slow loss of power can shorten the life of your battery.
Another factor with unique application to the Lamborghini: It's equipped with alarms and immobilizers that put extra load on the battery. Last but hardly least, winters in Northeast locations like Bergen County can be hard on a battery, even when it does get used, so winter car storage can be especially tough for batteries.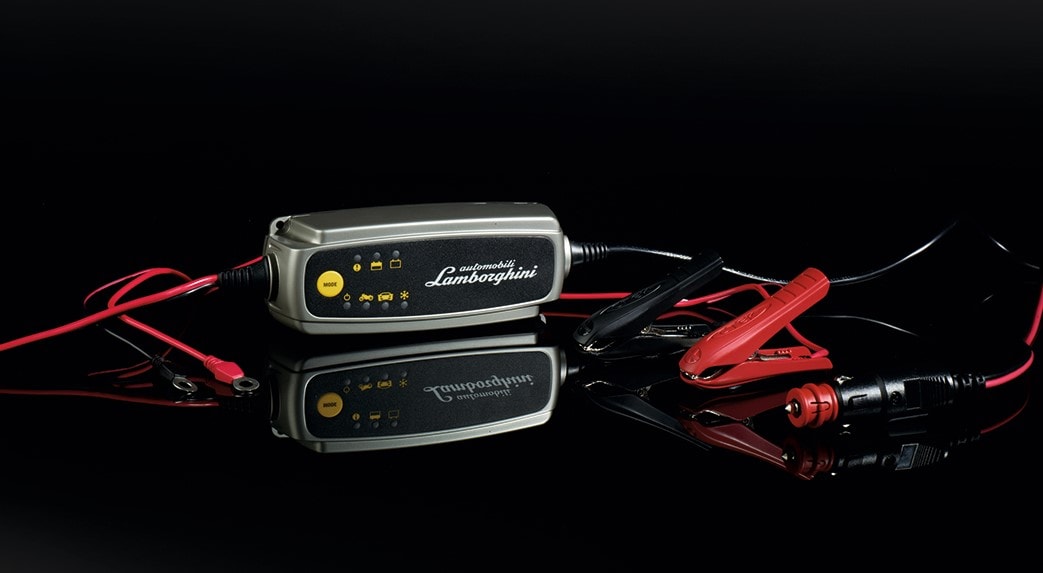 Lamborghini Battery Maintainers to the Rescue
Fortunately, there's a simple, cost-effective solution: a Lamborghini battery maintainer. It's one of many valuable accessories we offer here at Lamborghini Paramus, just half an hour from Manhattan. How does it work? For starters (no pun intended), a battery maintainer is sometimes called a "trickle charger," and that's a good description. When a battery isn't being used, the maintainer will sense the slow discharge and send an opposite small flow of energy from the maintainer back into the battery. That sustains a proper charge so your vehicle is ready the next time you need it. And the Lamborghini maintainers we offer at Lamborghini Paramus are compatible with every Lamborghini model.
What's the Difference Between a Battery Maintainer and a Charger?
The main difference is that a battery charger typically sends a constant charge to the battery, with no regard to whether the car actually needs it. The fact is, a point will come when the battery doesn't need more charging, and that's when a charger can easily overcharge the battery, which can result in battery damage.
By contrast, a battery maintainer senses how much of a charge the battery really needs, so it slowly sends a trickle charge over a period of several hours. Once the battery is full, the maintainer stops sending even the slow trickle. That's why a maintainer won't overcharge the battery like a charger might, and that helps extend the life of your battery.
Take Charge: Be Proactive About Protecting All Your Batteries
When properly maintained, car batteries can last for more than five years. Without proper maintenance, however, batteries may fail in less than two years. In that context, keep in mind that changing a battery on a supercar can cost significantly more than a conventional car.
If you own a boat, motor home or another vehicle that doesn't get used much, you should consider investing in maintainers to protect those batteries. As we mentioned earlier, maintainers will protect a battery from the hazards of overcharging and make sure vehicles in nearby communities around Hudson County are always ready to go. They also help make sure you don't have to spend unnecessary dollars on new batteries.
Talk to the Dealer Near Manhattan Who Knows You and Your Lamborghini
Even if you live in Monmouth County, it's worth the drive to Lamborghini Paramus to shop for outstanding, unique accessories like the Lamborghini battery maintainer. While you're here, you'll enjoy seeing every exceptional new Lamborghini for sale. A good example is the Lamborghini Urus, the first Super Sport Utility Vehicle to fuse the soul of a super sports car with the functionality of an SUV. Check our simple, step-by-step directions before you come. Whether you buy or lease with us or rely on us for exotic car service, you'll get a dealer who understands the kind of accessories your Lamborghini needs. More important, you'll get a dealer who understands you.