Experience Speed, Power, and Luxury Like Never Before in a Lamborghini SVJ Roadster
Some sports cars just take your breath away. The Lamborghini SVJ Roadster falls into this category. The looks of this car alone leave passersby astonished and in awe of its bold presence and energetic charisma. Demanding attention, the overall design of the SVJ Roadster is spectacular and theatrical. Not one to go unnoticed on the road, the Lamborghini Aventador SVJ Roadster has the power and poise to match its exterior excellence. Drivers and bystanders alike, are all thrilled with the performance and appearance of Lamborghini's customized exotic car. As if the Lamborghini Aventador line was not impressive enough, this automaker had to improve upon this SVJ Roadster luxury car model and make it awe-inspiring.
A Ride Like No Other
Based upon the exterior looks of the Lamborghini Aventador SVJ Roadster, one can only imagine what the ride would feel like. Transforming an Aventador S Coupe into a spunky speedster, the Lamborghini Aventador SVJ Roadster pours on the power. A titanium engine intake that is perfectly fitted to this specific model allows the SVJ Roadster to put out up to 739 horsepower.
This is simply unheard of in many vehicles, and to get your hands on a Lamborghini Aventador SVJ Roadster, you will have to move fast. Only 800 of these powerhouses will be released from production in 2021. In fact, this may be its 10th and final year of production, at all. If you are interested in feeling the power of a V-12 engine in a hybrid system, the Lamborghini Aventador SVJ Roadster is one of the only vehicles that will provide this experience around Monmouth County.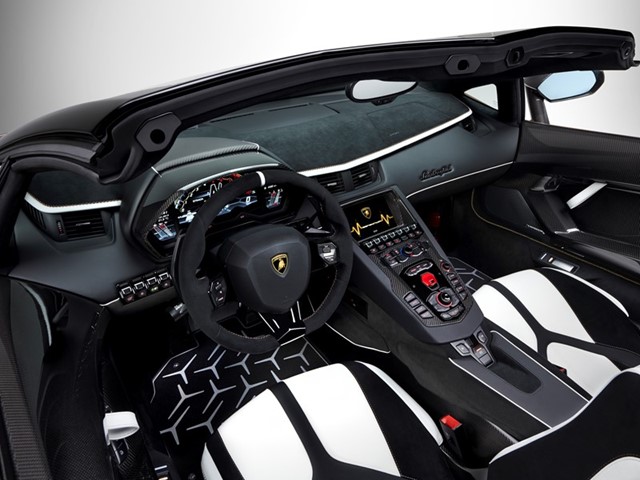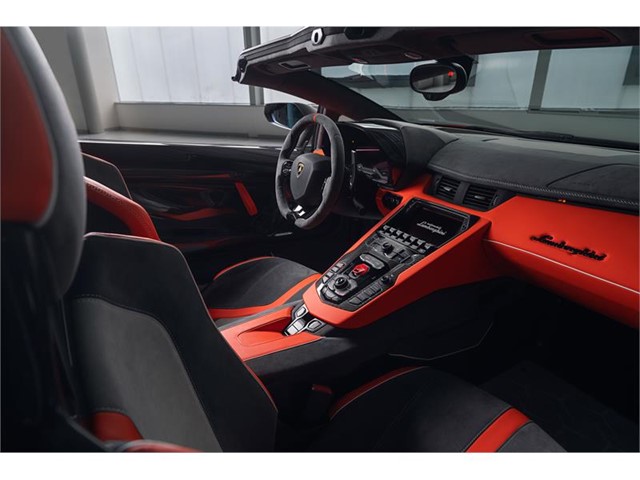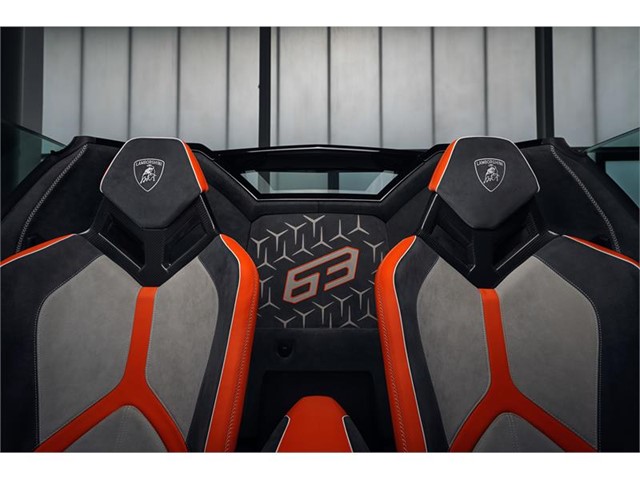 Features
Supportive seats, lavish interior details, a manually adjustable steering wheel, and paddle shifters adorn the inside of this wonder. Typical of an exotic car, but abnormal for a sports car of normal proportions, the Lamborghini Aventador also boasts scissor doors that are the main feature for this luxury car. Incredibly sleek and sporty, the interior of the Lamborghini Aventador SVJ Roadster is like none other you have ever seen. From under the hood to behind the front seats, every aspect of this vehicle that you can dream about is perfectly styled and intricately detailed.
Technology
When a push to start button is hidden away in a charming position under a console of its own, you know you are in for a surprise with the Lamborghini Aventador. The exterior look of the Lamborghini Aventador SVJ Roadster appears to be something from a future film, and the interior technology features that are present within it are nothing short of spectacular.
The sports-centered gauge cluster is the main attraction of the interior, and it is completed with chunky, bold numbers that are illuminated for easy viewing. Straight-forward panel controls provide easy-to-use functionality while being encrusted with the Lamborghini insignia. While many of the internal features of the Lamborghini Aventador are impressive, the focus of this exotic car is placed on performance and appearance.
Trim Levels
The trim levels of the Lamborghini Aventador SVJ Roadster are based on the available driving modes that this luxury car utilizes. The futuristic, specific driving modes include:
Strada: Optimal for driving on Manhattan streets.
Sport: Perfect for a little more power on the streets.
Corsa: For track use, when drivers prefer to go all out.
Each of these drive modes boasts its own unique reaction to the many facet selections the Lamborghini Aventador offers. Owners can play around with these drive modes to find the one they enjoy the most.
A Sports Car Like No Other
It is undeniable that an exotic car, such as the Lamborghini Aventador SVJ Roadster, is an exceptional vehicle. So much so that finding this type of Lamborghini for sale would be nearly impossible. However, that is the appeal that draws you into the exclusivity and individuality of a sports luxury car like the Lamborghini Aventador. For more information, contact us at Lamborghini Paramus. We love specialty vehicles and would love to discuss this Lamborghini model with you. Whether you're in Hudson County or Bergen County, make your way to our dealership in Paramus today. Contact for directions and more.
Hours
Monday

9AM-7PM

Tuesday

9AM-7PM

Wednesday

9AM-7PM

Thursday

9AM-7PM

Friday

9AM-6PM

Saturday

9AM-6PM

Sunday

Closed