RESEARCH: Meet the 2022 Lamborghini Huracan EVO Spyder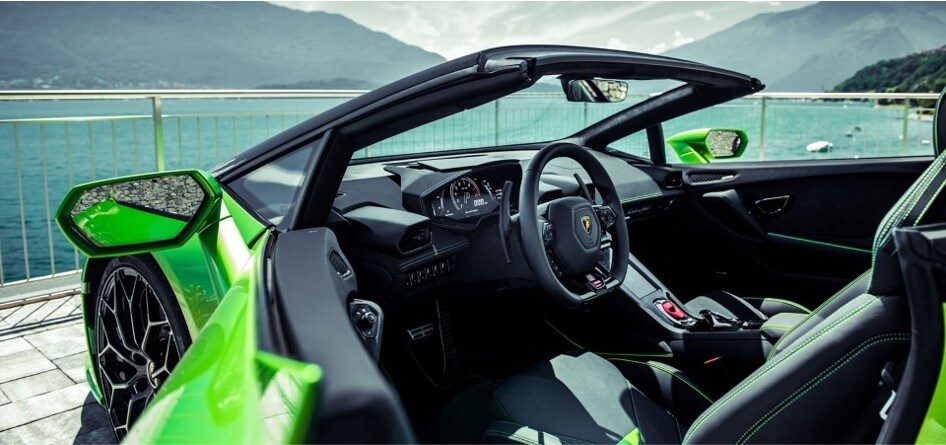 The 2022 Lamborghini EVO Spyder for Sale Near Manhattan
If you walk into an exclusive party in Hudson County wearing a rare Cosmograph Daytona Rolex, you don't have to say anything about it. It speaks for itself. If you don new Cartier glasses with 24 karat gold frames, all you have to do is smile. Some items do all the talking for you, and they'll explain to everyone that you've made it in life. It's the same thing when people see you driving the 2022 Huracan Evo Spyder in Manhattan. You don't need to say a word. Just let the engine hum while you travel on the highway. Rock a bye, baby.
Lamborghini Huracan Evo Spyder
Performance
The Hellcat is what you buy when you can't get to the Huracan EVO Spyder in Bergen County. When you've got a real need for speed, there's only one luxury car that will deliver every time. If the Spyder were any faster, we'd have to measure its speed in light-years. Go from 0-100 in less time than it takes to say your full name, twice. That's 3.1 seconds-and a max speed of 325 km/h. Lamborghini. Have Mercy.
What kind of power do 640 horses have in Monmouth County? Let's just ask the V10 engine inside the Lamborghini Huracan EVO Spyder. The beautiful exterior design isn't just something pretty to look at-it's aerodynamically sound. The character lines are perfectly streamlined to slice through the air like a hot knife through butter. This vehicle looks good going 2 mph, so everyone sees you-but it was made for performance. Give it a little gas. Enjoy the thrill. Lamborghini Mercy.
Interior Design
Drive fast and feel good with exquisite materials on the interior of your EVO Spyder. The 8.4-inch touchscreen system is built into the center console. You don't have to reach far to access your connected smartphone apps. The interior finishes echo the authentic Italian design, featuring the highest quality seating materials to make every drive, fast or slow, as comfortable as possible. Chose from leather, Alcantara, or the innovative Carbon Skin® material made exclusively by Lamborghini. The Carbon Skin® material contours your body and keeps you glued to your seat at high speeds.
Technology and Safety
When you invest in an exotic car like this, you'll want to make sure it's protected at all times. Even when you're nowhere near it. Lamborghini services provide remote assistance for maximum convenience. While using the Lamborghini UNICA app on your smartphone, you can access your vehicle status report over the air software updates and tap into your car finder tool whenever you need to. The connected navigation services provide real-time travel, route, and destination updates in the blink of an eye.
With multiple driver-assistance features and alerts for geofencing, speed, curfew, and valet, you'll have every ounce of security and peace of mind with your Lamborghini EVO Spyder. So, you can enjoy the ride and worry less, knowing that your vehicle will be covered at all times.
Learn More at Lamborghini Paramus near Manhattan
What's understood doesn't need to be explained. If people see you with a rare Rolex watch on your wrist, diamond embezzled Cartier frames or a Lamborghini Huracan EVO Spyder, they already understand. They understand that you've made it in life. You've allowed your skill to take you to the top in Paramus, and naturally, you want to enjoy the fruits of your labor. You've got the big house and the nice clothes-now all you need is the right luxury car. The Lamborghini EVO Spyder is the perfect complement to a boss-and it's time for your test drive at Lamborghini Paramus. Welcome to the EVO. Lamborghini. Oh, Mercy.
Reach Out to Us About the Huracan EVO Spyder