Lamborghini EVO RWD Spyder near Paramus
Lamborghini has long stood atop of the luxury car class of vehicles. Synonymous with style and luxury, the Lamborghini brand of exotic cars are some of the best available. With the new Lamborghini EVO RWD Spyder, that title looks to be sticking around for quite some time. The rear-wheel-drive provides excellent power and acceleration that you look for in a Lamborghini. The Spyder still offers great traction and stability that Lamborghini is known for a wide offering top-level style and luxury. At Lamborghini Paramus, our inventory of Lamborghini's for sale will have the exotic car that works best for our Paramus customers. With the Lamborghini EVO RWD Spyder's, there are great benefits found from performance to technology benefits in all of their trim levels that are sure to impress drivers from Hudson County to Bergen County.
Performance
The Lamborghini EVO RWD Spyder comes equipped with a V10 multi-point injection plus a direct-stratified injection engine that screams luxury. This engine puts out 610 CV/449 kW of power with a max speed of 201 miles per hour. It can go from 0-60 in under 3.5 seconds thanks to the acceleration that Lamborghini is famous for. On the other side, it can decelerate from 60-0 miles per hour in just over 32 meters thanks to the fixed calipers with eight front pistons and four rear pistons. The rear-wheel-drive feature of the Lamborghini EVO Spyder offers excellent control thanks to the electronic stability control and double-wishbone fully independent suspension.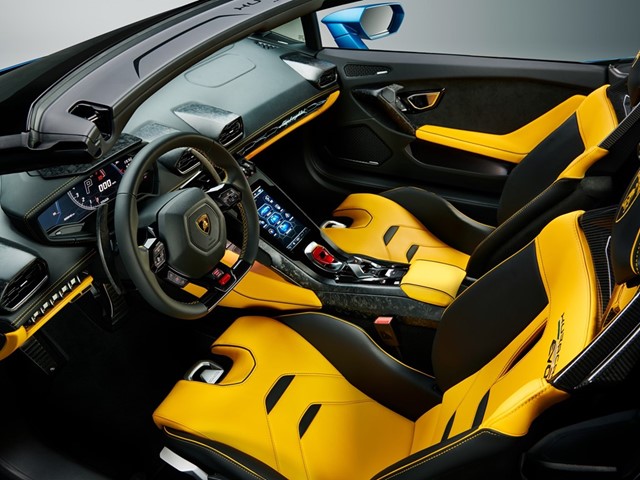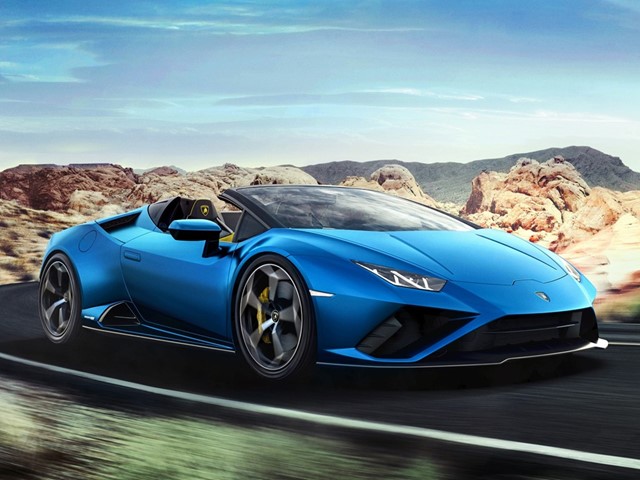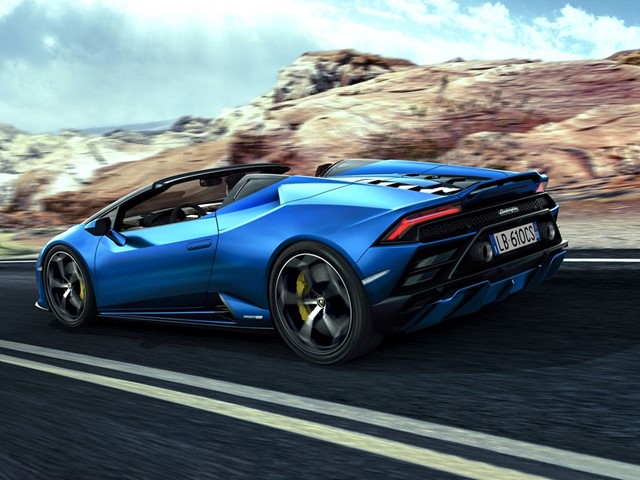 Features
The Lamborghini EVO RWD Spyder comes packed with features that are sure to impress. The new rear-wheel-drive style comes equipped with a shark-like nose style and sharper lines in the rear diffusor. The Spyder also has a wider and very sharp air-intake with the rear-wheel-drive model. On the interior, the Lamborghini keeps the driver and car connected better than ever. The carbon-fiber seats offer increased room in the cabin and comfort while keeping that sporty feel. There are also excellent safety features with airbags for the driver, passenger, side, and knee in selected areas.
Technology
The Human-Machine Interface makes the EVO RWD Spyder stand out above the rest. Keeping you connected to your vehicle is a staple of Lamborghini, and this technology is what makes the brand stand above all. With an 8.4 inch multi-touch capacitive screen, you are able to get a wealth of information at the tip of your finger. The HMI offers you can control entertainment functions, receive real-time traffic information, and adjust the cockpit lights to the current driving mode. Even the Electro-Mechanical power steering function offers technological advancements to maximize stability and control of the EVO RWD Spyder.
Trim Levels
Huracan EVO
The Huracan EVO offers all-wheel-drive with a seven-speed automatic transmission. It offers a 630 horsepower 5.2-liter V10 engine that goes 0-62 miles per hour in 2.9 seconds. The Huracan EVO also comes equipped with 20-inch wheels and carbon-ceramic brakes. It has a starting price of around $260,000.
Huracan EVO RWD
The Huracan EVO RWD comes with a rear-wheel-drive drivetrain and seven-speed automatic transmission. The 602 horsepower 5.2-liter V10 engine goes from 0-62 miles per hour in 3.3 seconds. It comes equipped with 19-inch wheels and steel brakes with a starting price of around $208,000.
Visit Lamborghini Paramus Today!
With so many great options and trim levels, it is clear to see what makes the Lamborghini EVO Spyder one of the best luxury cars on the market today. For those with interest in exotic vehicles, the Lamborghini brand has continued to produce year-in and year-out. The EVO Spyder offers phenomenal performance, next-generation features, inclusive technology, and a great choice of trim levels to find what you are looking for in a luxury car. If you're Monmouth County or Manhattan, come down to Lamborghini Paramus today and take an EVO Spyder for a test drive and feel the power that comes with Lamborghini. Contact us for directions today.
Hours
Monday

9AM-7PM

Tuesday

9AM-7PM

Wednesday

9AM-7PM

Thursday

9AM-7PM

Friday

9AM-6PM

Saturday

9AM-6PM

Sunday

Closed