The All-New 2022 Lamborghini EVO RWD in Manhattan
Your heart is racing. The accelerating performance is breathtaking, but it's not enough. You want more. More power. More capability. More of what a Lamborghini can give you. So, you give it a little more gas. Your head is glued to the exclusive Carbon Skin® headrest as you blast off from 0-60 in less time than it takes to type Lamborghini EVO on your smartphone. Exotic cars like this don't come around often. But, when they do, you can bet your mansion that it's a Lamborghini.
Performance
Face it. Nobody in the market for a Lamborghini will give any thought to gas mileage. You don't care about that. You don't care about fuel efficiency, if it will fit your children, or if you can put your tools in the trunk. Put all that to the side. You care about the performance. After all, the performance is why you purchased the vehicle in the first place.
It sounds fast. The humming sound of a 5.2L, V10, Multi-Point injection engine propels you to speeds of over 200 mph. You'll hit 60 MPH in 2.9 seconds and 124 MPH in 9 seconds. That's power. That's a performance worthy of an encore. That's 630 horses galloping on the Franklin D Roosevelt and 443 lb.-ft. of torque through Bergen County. After this performance, the only thing left to do is bow.
Driving Modes and Handling
The Lamborghini EVO is prepared to handle any road in Paramus or Manhattan. With three drive modes, you'll have excellent control and handling from the streets to the highway and beyond. The Strada mode is perfectly tuned for city driving in Manhattan. The Sport mode is designed for more enthusiastic driving in Hudson County. And, the Corsa mode is made for the track with an aggressive powertrain and roaring acoustics from the powerful V10 engine.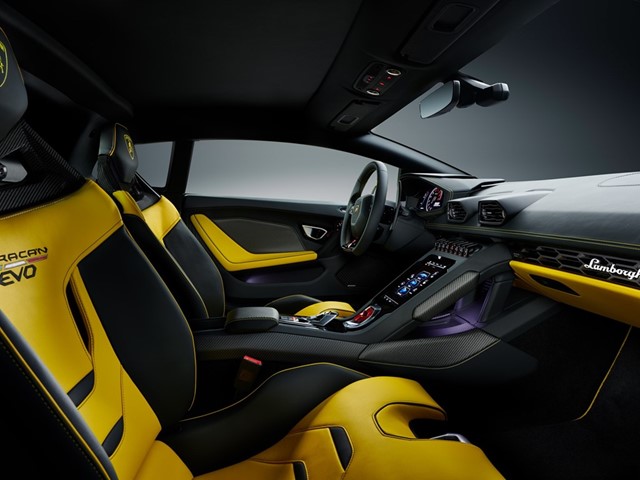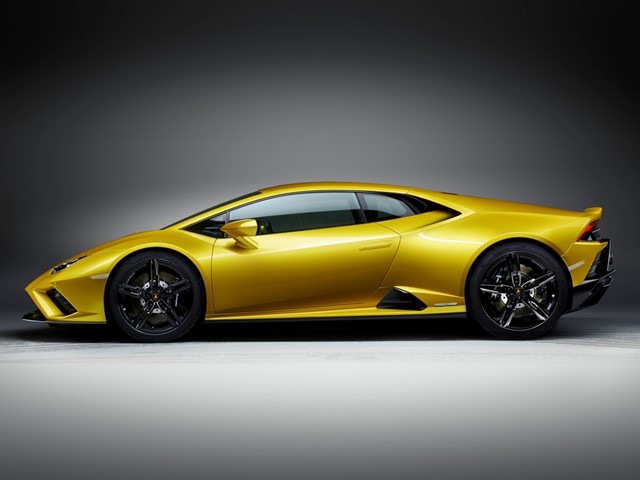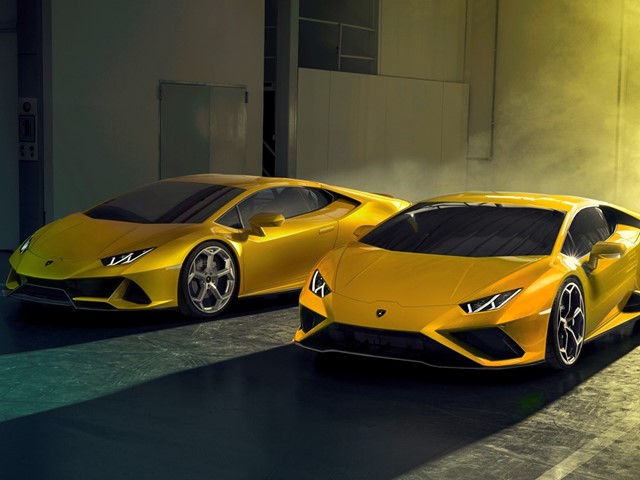 Technology
Your 8.4-inch touchscreen is at a perfect angle at the center console. Crisp graphics for navigation and seamless connection to your smartphone. Not that your drive isn't already as entertaining as it can be in the driver's seat of a Lamborghini EVO. But, if you want to tap into your favorite playlist or podcasts during the evening cruises through Monmouth County, the dynamic design and layout of your infotainment system make everything easy to access.
Interior Design
Multiple customization options accompany your Lamborghini Huracan. You can decide the color of your material, stitching, and more. But, the seating material is something unique to the Lamborghini brand. Premium Carbon Skin® upholstery will make you feel like you're riding on alien technology. The aesthetic feel from the bucket seats of your Carbon Skin®, Leather, or Alcantara seating material will add to the relaxation you feel while you're behind the wheel.
Trim Levels
Lamborghini Paramus
The Lamborghini EVO RWD is on our showroom floor. The only thing it's missing is you. It's one thing to tell you about the dynamic power and ability of a Lamborghini EVO. We know you've owned more than a few exotic luxury cars over the years, so you have an idea of what to expect. Or, do you?
Wouldn't you like to test drive a Lamborghini Huracan? Wouldn't you like to feel the power and listen to the engine serenade you as you ride on the highway? We've got them in stock and ready to go. Your next exotic vehicle is waiting for you here at Lamborghini Paramus.
Hours
Monday

9AM-7PM

Tuesday

9AM-7PM

Wednesday

9AM-7PM

Thursday

9AM-7PM

Friday

9AM-6PM

Saturday

9AM-6PM

Sunday

Closed