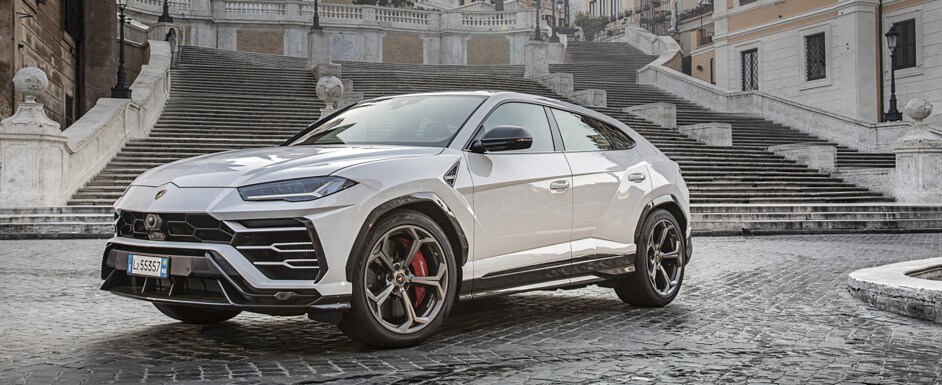 The New URUS Lamborghini for Sale in Paramus
When it comes to the luxury SUV, there's simply nothing that can match the Lamborghini URUS. Whether you're looking to show off an eye-catching luxury car around Monmouth County, want to take on some trails outside Bergen County, or just commute in style to Manhattan, the Lamborghini URUS is the luxury SUV you've been looking for.
Unmatched Performance
The Lamborghini URUS is unlike anything else you'll find in Hudson County. At the heart of this exotic luxury SUV you'll find an exceptionally powerful V8 biturbo engine with 650 horsepower on tap--a higher weight-to-power ration than any other SUV out there. An eight-speed automatic transmission and full active torque vectoring four-wheel-drive make the Lamborghini URUS a champion on the track, in traffic, and out on the trail.
The innovative four-wheel-drive system gives your rear-wheel-drive style performance on the pavement, while offering you off road confidence in any weather. Equip your Lamborghini URUS with snow tires, and you'll enjoy a whole new winter driving experience with ultimate command and control of the road.
Space-Age Technology
The Lamborghini URUS offers an exceptional wealth of world-class automotive technology features. Lamborghini's ANIMA Selector system allows you to transform your driving experience with STRADA comfort driving mode, SPORT performance mode, and CORSA extreme performance mode.
Take charge of the trail with three off-road modes: NEVE for calm control on slick surfaces, TERRA for simple command of off-road adventures, and SABBIA for confidence and responsiveness in sandy conditions. Prefer to make your own way? EGO mode allows you to custom tune your suspension, traction, and steering to meet your unique driving style and taste.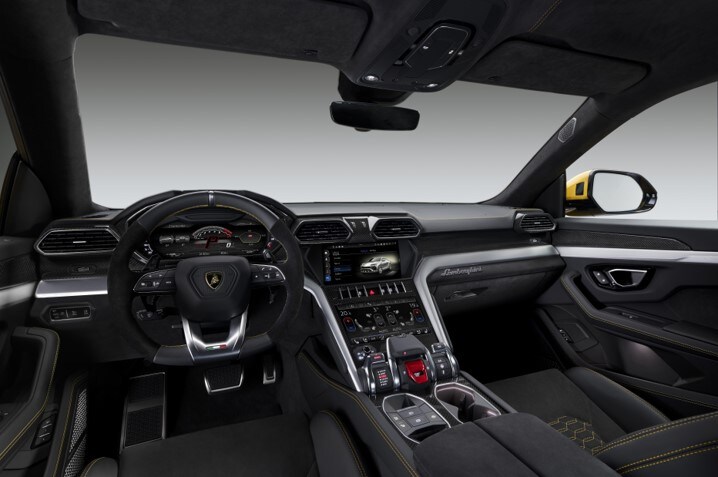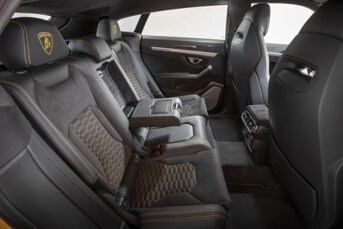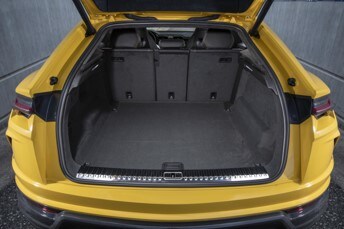 What Makes the Lamborghini URUS a Different Kind of Luxury Car?
The Lamborghini URUS's advanced four-wheel-drive technologies, custom tuned engine, and eye-catching styling make it a truly exotic SUV. Few vehicles can offer a 3.5-second zero to sixty time, a top speed of 186 mph, seating for up to five, and off-road abilities that would leave other vehicle in dust.
Why Choose the Lamborghini URUS Luxury SUV?
If you want the luxury SUV that can do it all and does it all in style, the Lamborghini URUS is what you've been searching for. The Lamborghini URUS features styling that makes you the center of attention, and it backs it up with performance power that commands respect. With the Lamborghini URUS, you can go anywhere, do anything, and become better than the best.
Configure your Ideal Exotic Car
The Lamborghini URUS offers a true luxury experience with its endless customization options--you're not constrained by pre-configured trim levels built to meet average needs--you can select the distinct and unique Lamborghini URUS you desire with an exceptional range of options.
Style Options - The Lamborghini URUS offers a wealth of vibrant color selections, your choice of a range of 21-inch, 22-inch, and 23-inch premium wheels, and a full selection of style packages, including off-road body styling, carbon fiber packages, and custom exhaust pipes.
Entertainment Options - Enjoy it all with optional rear entertainment packages, Bang & Olufsen Advanced 3D Sound, and a full suite of automated driver assistance technologies.
Luxury Options - Enjoy a wealth of refined interior choices with Alcantara® leather, Elegante Leather, Sportivo Leather, and Unicolor leather in a range of color options and stitching selections. Create your own color scheme with premium carpet and floor mats in custom colors, three steering wheel choices, headrest and rear seat options, and wood or carbon fiber trim packages. Enjoy premium luxury with massage seats.
Further Customize Your Exotic Car with the Lamborghini Urus Pearl Capsule
The style of every Lamborghini Urus for sale near Manhattan is undeniable, and we provide car shoppers a wide range of options and color schemes. This SUV demands attention with its stunning exterior, and now it's even more eye-grabbing as the Lamborghini Urus Pearl Capsule Edition provides three new color options that stick with the tradition of bright, exciting colors for the new exotic cars on our lot. Many of the features and engineering aspects are the same in the Pearl Capsule Editions, but read on for what sets these unique options for the Lamborghini Urus apart.
Different Styles for the Lamborghini SUV in Paramus
Making an SUV look as sporty as the Lamborghini Urus is tough, but it pulls it off, especially with the Pearl Capsule models. This package adds 23-inch Taigete rims with a shiny black color and an accent that matches the color of the exterior. The uniform look manages to add an even more sophisticated look to this luxury SUV, especially when selecting one of the three unique color options for the Pearl Capsule Edition. Those colors include:
Verde Mantis
Arancio Boreali
Giallo Inti
Bright colors have helped Lamborghini models to stand out for decades, and we're excited that those buying a Lamborghini SUV near Manhattan have even more options. Plus, you'll get those color schemes are present in the cabin as well.
Awe-Inspiring Performance
Unique color options and beautiful designs are part of every model at our Paramus Lamborghini dealership, which also true of their performance. The Lamborghini Urus Pearl Capsule Edition comes with a twin-turbocharged V8 engine that has a ridiculous 629 pound-feet of torque, so onlookers will only have a short time to admire your vehicle before you're gone. And, throughout it all, the Lamborghini Urus Pearl Capsule is a comfortable ride in the city thanks to immaculate body design and exceptional handling.
Find Your Next Lamborghini for Sale at Lamborghini Paramus
Follow the Directions to Lamborghini Paramus to discover your next exotic car.

Hours
Monday

9AM-7PM

Tuesday

9AM-7PM

Wednesday

9AM-7PM

Thursday

9AM-7PM

Friday

9AM-6PM

Saturday

9AM-6PM

Sunday

Closed